Unboxing a Hanstrom boiling water tap
6 August 2022
The Hanstrom boiling water tap is a true stunner both inside and outside of the box! The tap removes the need for kettles and helps to declutter the kitchen. Their 'tap into their future' slogan is bold and is spot on to say the least.
Instant boiling water on demand
The luxury Hanstrom tap offers a safe experience in getting boiling water on demand. A child safety sprung is added to ensure the tap is safe to use when boiling water is released.
The tap removes the need for kettles and is cheaper than using a kettle costing on average around 3p per day – compared to a kettle which costs 2.5p per boil!
This is the unboxing of a Hanstrom 4-in-1 boiling water tap which also has the fourth option for filtered cold water which also reduces the need to go and buy bottled water all the time.
Hanstrom can streamline your worktop
Streamline your kitchen worktop with a Hanstrom to replace traditional kitchen taps as well as your kettle. A boiling water tap is just the solution to create a minimalist and contemporary kitchen.
Boiling water taps can make tap water taste better, especially a 4-in-1 which also provides filtered cold water using the carbon filter included in every Hanstrom sale.
Everybody in the Tap DIY customer support team is trained to answer anything big or small about Hanstrom.
Premium Hanstrom hot water tank
The Hanstrom water tank has a capacity of 2.4litres of water. The water tank has different preset temperatures which are 75°C, 85°C, 90°C and 95°C.
It features a state of the art digital touchscreen and is finished in black. The compact tank can easily be sat under the worktop.
The boiler also features an automatic filter recognition system to ensure that you are able to replace the filter on time.
High quality boiling water tap
Hanstrom are available in a range of colours which include Chrome, Copper, Gold, Black, Brushed Nickel and Brushed Brass to suit your scheme, basic Chrome is much cheaper than other finishes.
The tap comes in very professional packaging and the installation manual is also included within the same box. The tap comes in a handy bag to protect it before you even come to unwrapping it.
The connector pipes are extremely high quality and are numbered to help make the installation easy.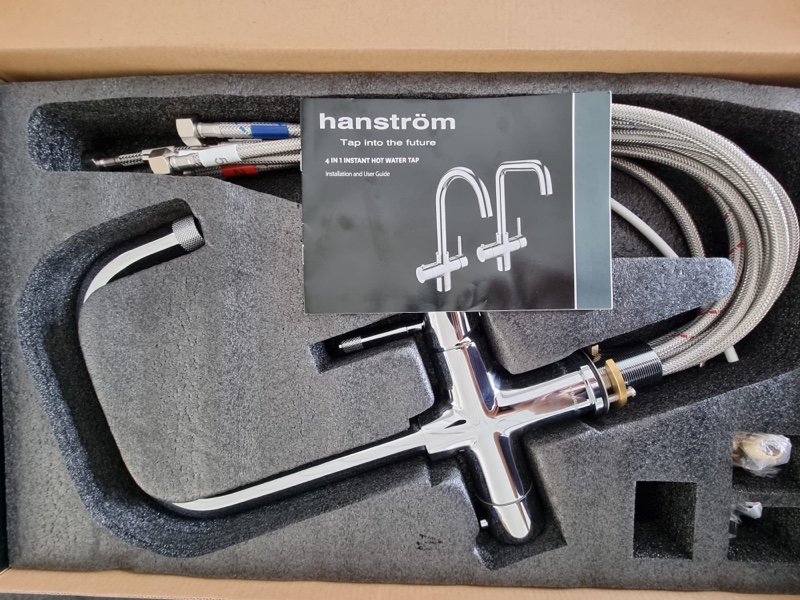 Anti-Scaling Carbon and Calcium Water Filter
Every Hanstrom order on Tap DIY includes a free filter which helps make tap water taste better by removing nasty-tasting chemicals. In addition to softening the water for you if you live in a hard water area.
It is recommended filters are replaced every 6 months to ensure you get the best out of the boiling water tap.
The cost to replace a filter is £45 for one and can be replaced very easily by yourself. We also have an offer where you can buy 3x filters for £99.
Reasons to buy Hanstrom from Tap DIY
At Tap DIY, we pride ourselves on customer service and based in Yorkshire we are naturally tea lovers so cannot go without a Hanstrom.
We provide free 45 days returns, premium next day delivery and you will be kept notified before delivery.
At Tap DIY, we also stock a huge range of matching sinks and all staff are trained by Hanstrom specialists.
Browse our range of Hanstrom boiling water taps at Tap DIY below…