Is Quooker the best boiling water tap in 2022?
18 May 2022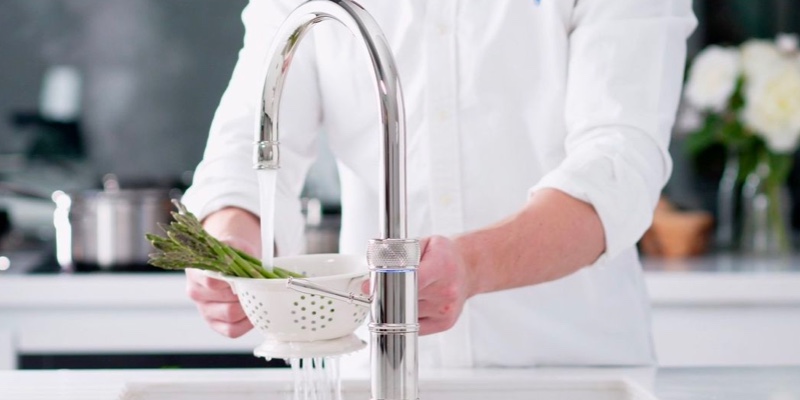 Quooker boiling water taps have been around since 1992. Many renowned celebrity chefs all have Quookers including: Jamie Oliver, John Torode, Galton Blackiston and Anthony Worrell Thompson. In addition, other celebrities include Katie Price, Lisa Faulkner, Angela Griffin, David Flatman, Matt Edmondson and Peter Andre.
While Quooker taps are not always the cheapest in the market, in our article we list premium quality boiling water taps that are considerably cheaper. Boiling water taps transform the way you cook in the kitchen and make tea. Boiling water is stored underneath the sink and is available to use for your tea from a simple touch of a button.
Quooker taps can help you when making pasta or filling up your hot water bottle as they deliver 100°C boiling water. A Quooker boiling water tap compared to rivals is not cheap and prices usually start from £1,000 + installation costs. Their replacement filters cost around £30.
A Quooker boiling water tap can be a hassle to install and requires an experienced professional to install. Their boiling water system which sits under the sink can also take up a lot of space compared to rivals.
All in all, Quooker boiling water taps are rated very highly and are available in more than 10 countries.
Below we list alternatives to Quooker and how you could get the similar premium quality boiling water tap for much less.
Alternatives to Quooker Boiling Water Taps
Hanstrom Boiling Water Tap
Hanstrom sell premium quality 3-in-1 instant boiling water taps. They have 4 luxury collections which are: Ume, Lunen, Storan and Aran. Prices for a Hanstrom boiling water tap start at £349 which is more than 75% cheaper than a Quooker. Installation of a Hanstrom tap is simple and the average cost to install a tap in the UK is £99.
Reasons to buy:
Premium looking tap
Compact boiler
Friendly UK Customer Service
Below is the Hanstrom collection at Tap DIY…

View More
Olde English Boiling Water Tap
Olde English boiling water taps have a huge range of 3-in-1 boiling water tap and 4-in-1 boiling water taps. The benefits of a 4-in-1 boiling water tap is that they deliver filtered cold water as well as filtered boiling water.
Olde English have both traditional and modern style boiling water taps which will make a stunning addition to any kitchen.
Reasons to buy:
Designed in the UK
Traditional and modern designs available
Premium quality hot water taps
Below are three of our favourite Olde English Boiling Water Taps…
In general, boiling water taps and hot water taps in the UK are usually expensive, so if you are not good at DIY, it's recommended you call a professional to fit it for you. A water supply and a three-pin UK plug socket are required in close proximity to ensure the tap can be installed.
The initial investment for a boiling water tap is fairly expensive but overall, you will save money in having one. Quooker claim their boiling water taps can cost 3p per day whereas each kettle boil on average costs around 2.5p 'per boil'.